Frequently asked questions
How long does it take to ship after I order a game controller?
---
Right now, it's approximately two months. Each box is built to order due to the customization options that can be chosen and the current order load. We ensure each box is tested multiple times during the build process before shipping. Once your device is made and ready to ship, you will receive an email from our online store and our shipping software, giving you the tracking information.
---
I want to buy an A.S.P. game controller as a gift, do you offer gift certificates for purchase?
---
Yes we do! If you're not sure and you want this to be a surprise gift, give them a gift certificate so they can go online and build the box the way they want it. It's super simple to purchase and print out. Visit the store to purchase or redeem your gift card.
---
Does A.S.P. plan on making different controllers for other game genres?
---
We are always looking at how to bring more immersion to your simulation gaming experience. Check out what we're working on now by clicking here.
---
How do I get my CB mic to work with ATS or ETS TruckersMP?
---
We like to use a 3rd party program called JoytoKey, you can download it here. After you have it installed, we made a quick video tutorial on how to set it up. You only need to use this program if you are using the CB mic with TruckersMP.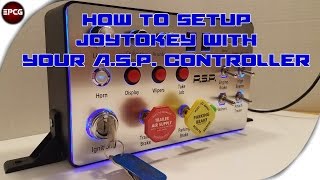 ---
What is the warranty and refund policy?
---
We offer a 30 day customer satisfaction gaurantee on all of our products. After that, your device has a 1 year warranty, from shipment date, that covers parts and labor at no cost. You are responsible for the shipping cost to and from our location, after the 30 day satisfaction gaurantee. If you change your mind before the shipment of your product or within the 30 day customer gaurantee, please contact us through this form or email us at support@evolpcgaming.com in order to receive a refund.
---
---